Cedar Ridge
Perkasie, PA - Bucks County
Townhomes From: $447,025
Pennridge School District
2581-2652

Sq. ft.

3

Beds

2.5

Baths

1-2 Car

Garage

2

Stories
A New Lifestyle Awaits . . .
Featuring new designs, inside and out, your brand new townhome awaits you with open arms in a beautiful, quaint community of Perkasie! Each thoughtfully designed home will feature 3 bedrooms and 2.5 bathrooms, including a full basement, deck and one or two-car garage. Standard features include kitchen granite countertops and laminate hardwood flooring (in the kitchen, dining area, foyer and powder room).
Located in Bucks County, Perkasie is situated midway between Doylestown and Quakertown. The community is a short distance to the downtown area, where you will find shops, multiple parks, and eateries. There are also great educational offerings within the highly ranked Pennridge School District and exceptional universities within commuting distance!
Standard Features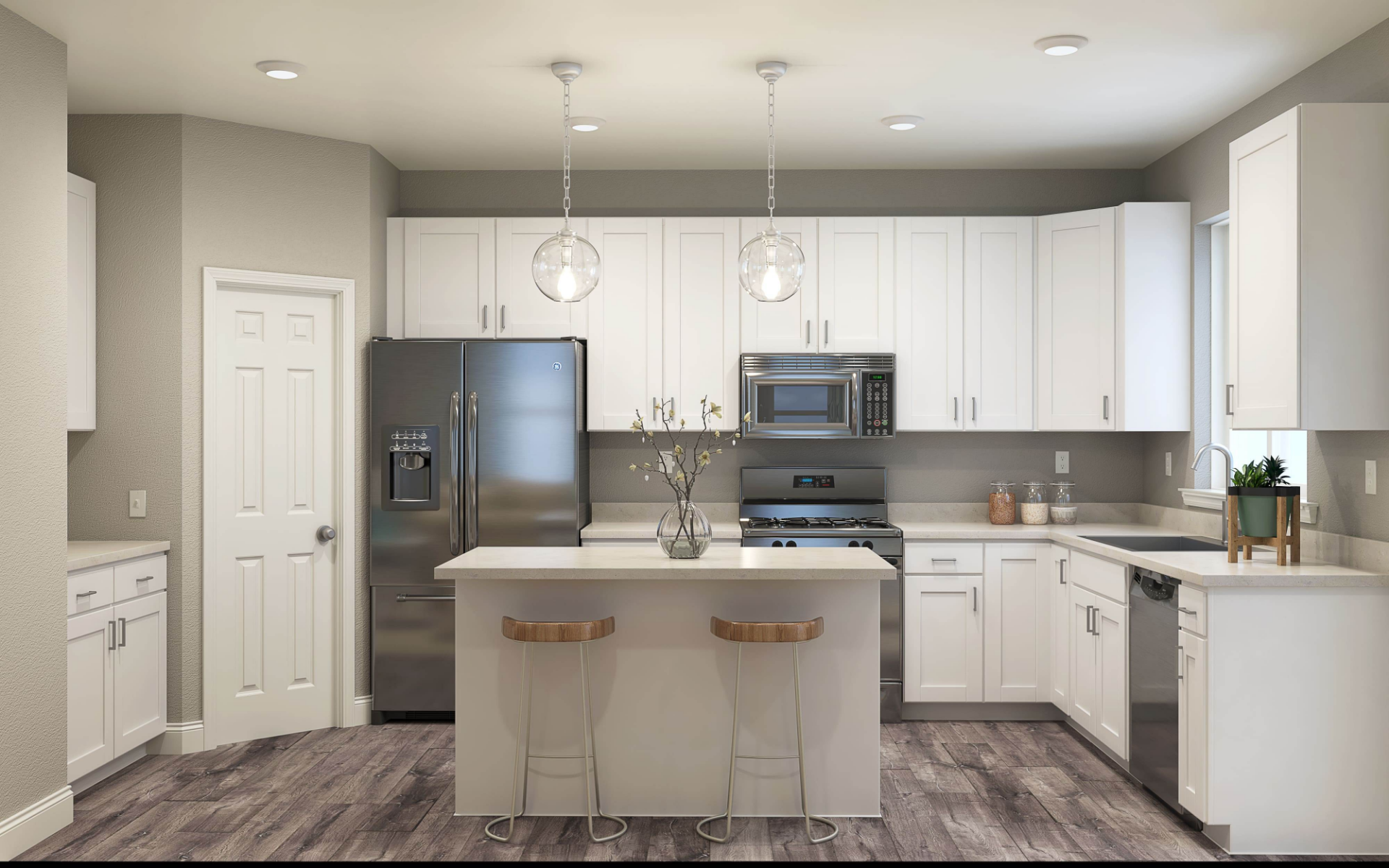 Interior features
Nine-foot ceilings on the first floor
Laminate hardwood flooring in kitchen and dining area
Laminate hardwood flooring in foyer and powder room
Pre-wired for cable and/or Cat5 Ethernet jacks in the great room and each bedroom
Bathrooms
Owner's bathroom with five-foot tile shower with fiberglass base
One-piece fiberglass tub/shower unit in hall bathroom
Moen® plumbing fixtures
Kitchen
42-inch cabinets with soft-close doors
Granite kitchen countertops
Whirlpool® appliances
Energy-Saving Features
Cost-effective, high-efficiency direct vent gas heating system with central air conditioning
50-gallon high-efficiency water heater
R-19 fiberglass insulation in exterior walls (total R-21)
R-30 blown insulation in attic
Quality Construction
Basement waterproofing
2x6 framed exterior walls
LP Legacy® subfloors (made with Gorilla Glue Technology®) glued and fastened with TetraGRIP™ system to minimize floor squeaks
Full-height, poured concrete foundation
Vanguard® Manabloc quick delivery water system with emergency shut-off valves for each water line
Finishing Touches
Pre-settlement inspection to ensure complete customer satisfaction
Professional cleaning prior to settlement
Professionally graded and hydroseeded lots
Homes
The Brampton

Home Type: Townhome

2104

Sq. ft.

3

Beds

2.5

Baths

1 Car

Garage

2

Stories

Details

The Claremont

Home Type: Townhome

1935

Sq. ft.

3

Beds

2.5

Baths

2 Car

Garage

2

Stories

Details

The Avondale

Home Type: Townhome

2149

Sq. ft.

3

Beds

2.5

Baths

1 Car

Garage

2

Stories

Details
Quick Move-In Homes
$447,025

Available Early 2022

5 Cedar Ridge Court

Perkasie, PA - Bucks County

Community: Cedar Ridge

Plan: Brampton

Home Type: Townhome

Pennridge School District

2652

Sq. ft.

3

Beds

2.5

Baths

1 Car

Garage

2

Stories

Details

$482,320

Available Now!

12 Cedar Ridge Court

Perkasie, PA - Bucks County

Community: Cedar Ridge

Plan: Claremont

Home Type: Townhome

Pennridge School District

2412

Sq. ft.

3

Beds

2.5

Baths

2 Car

Garage

2

Stories

Details

$515,444

Model Home Available Now!

2 Cedar Ridge Court

Perkasie, PA - Bucks County

Community: Cedar Ridge

Plan: Avondale

Home Type: Townhome

Pennridge School District

2626

Sq. ft.

3

Beds

2.5

Baths

1 Car

Garage

2

Stories

Details
Interactive Community Map
What Our Happy Homeowners Have To Say
"

Their communication throughout the building process was exceptional. The community gave me an experience I have never seen before, from picking out the specific details of my home, shingle colors, shudders, carpet, hardwood, etc.. Once you see the quality of their team's work, you'll be impressed also! After settlement the entire team at THP has checked in and made sure there were no issues, for the ones that came up, the response was immediate. If you are looking for a home you won't be disappointed with THP.

Stephen, Lincoln Woods

"

We chose THP over any other builder because we were able to get more value for our money. Throughout the whole sales process the best thing about working with THP was the way they made us feel like we were at home. It's just been great so far. It's been great living in something that we created together by ourselves.

Greg & Tiffany, The Reserves at Northgate Community

"

We loved this community the minute we came in for a tour! The sales staff were super nice and informative and we loved the style of the homes. Our decision to buy was very easy. We had so much fun getting to choose our granite, cabinet, floor colors, etc. It's been almost 2 months and we are so In love and grateful for our cozy home and we will always remember the great experience we had buying our first new construction home. Thank you THP!

Angie, The Village at Northgate
Reviews
What Our Happy Homeowners Have To Say
"

Their communication throughout the building process was exceptional. The community gave me an experience I have never seen before, from picking out the specific details of my home, shingle colors, shudders, carpet, hardwood, etc.. Once you see the quality of their team's work, you'll be impressed also! After settlement the entire team at THP has checked in and made sure there were no issues, for the ones that came up, the response was immediate. If you are looking for a home you won't be disappointed with THP.

Stephen, Lincoln Woods

"

We chose THP over any other builder because we were able to get more value for our money. Throughout the whole sales process the best thing about working with THP was the way they made us feel like we were at home. It's just been great so far. It's been great living in something that we created together by ourselves.

Greg & Tiffany, The Reserves at Northgate Community

"

We loved this community the minute we came in for a tour! The sales staff were super nice and informative and we loved the style of the homes. Our decision to buy was very easy. We had so much fun getting to choose our granite, cabinet, floor colors, etc. It's been almost 2 months and we are so In love and grateful for our cozy home and we will always remember the great experience we had buying our first new construction home. Thank you THP!

Angie, The Village at Northgate