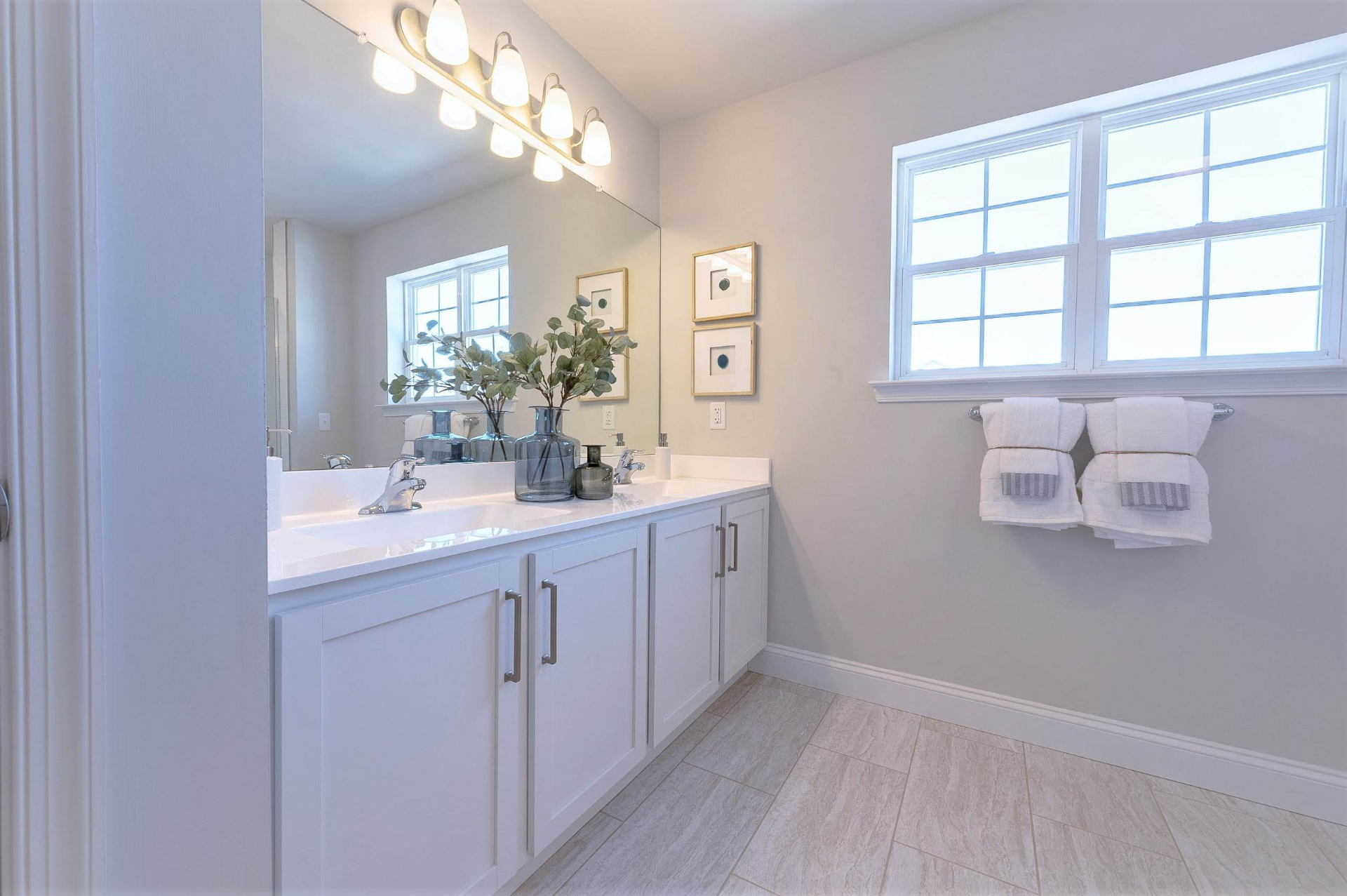 Bathroom Decorating 101
Every THP home comes complete with 2 or more bathrooms, where innovative, high-quality design meets contemporary comfort to form a space you'll love to relax in. As part of a space where you start and end your days, your bathroom should reflect your personality and speak to your style! When it comes to decorating, take a look at a few of our favorite trends that bring a bathroom to life:
Stylish Storage From towels to products and everything in between, a unique storage piece will add flair to your bathroom.
Free standing bathroom shelves are great for bigger spaces, and are great for those who love to organize their stuff in a way that reflects their style. From contemporary white to sleek metal or brass, choose a look that complements the rest of the bathroom.
Towel racks may seem simple, but these wall-mounted pieces of décor certainly add a pop of life to your space, especially if they come in a unique shape or texture. Remember that your towels will hang from here (they're not just decorative!) so choose a rack that's easily accessible and sturdy.
Decorative ladders are all the rage in the home now, and they certainly look just as awesome in a bathroom. Like a free standing shelf, this piece is great for a larger space and can be placed just about anywhere. Whether over the toilet or against a bare wall, a decorative ladder works well for people who love to organize their items in a chic and trendy way.
Small Items, Big Impact We're told not to sweat the small stuff, but the tiny accessories in your bathroom make all the difference.
Bath accessory sets that come with things like canisters, soap dispensers, and tissue boxes are a great way to add your own flair to your sink area. When it comes to these accessories, colors and accents are the most important decision — are you looking to match with your towels? Does your bathroom make use of one particular accent?
Your bath mat, towels, and shower curtain (if you don't have a glass door) are essentially the stars of the show. You'll use these items frequently and they'll set the tone for the rest of the room. Choose a color that you not only love, but that fits the vibe you want to feel when you're in your bathroom, and match the color of your walls. For grayish hues, lighter colors like pale yellow work great for towels. If your bathroom has a black and white scheme, bright-colored towels like pink, orange, or red will pop.
Plants aren't just for the garden! Houseplants that require little care and survive both cold and humid conditions work best. Try something like an aloe Vera plant, asparagus fern, or pretty orchid on one of your shelves, above the toilet, or on the sink for a natural and relaxing aura.
Off the Wall, On the Wall Whether your style is eccentric and vibrant or contemporary and sleek, what you put on your walls has something to say.
If you're working with a smaller area, adding another mirror or two to the walls can add an illusion of more space. The best part? Mirrors come in such beautiful shapes and sizes! From ovals and diamonds to traditional squares and rectangles, each size, shape, and frame brings a unique touch. Do you like old-fashioned, antique textures, or modern simplicity? Go with your gut!
There's nothing quite as eye-catching as art (in any room of the home!). Especially in a bathroom, art pieces can make a real statement. From 3D objects to framed paintings to handmade wall hangings, art provides a unique aesthetic to your bathroom, making it personal and completely you.
The room where you unwind and relax, your bathroom is just as important (and beloved) as any other room in the home. No matter what size, there are plenty of ways to make your space shine. With a little decorating makeover, you're sure to fall even more in love with your THP Homes bathroom!