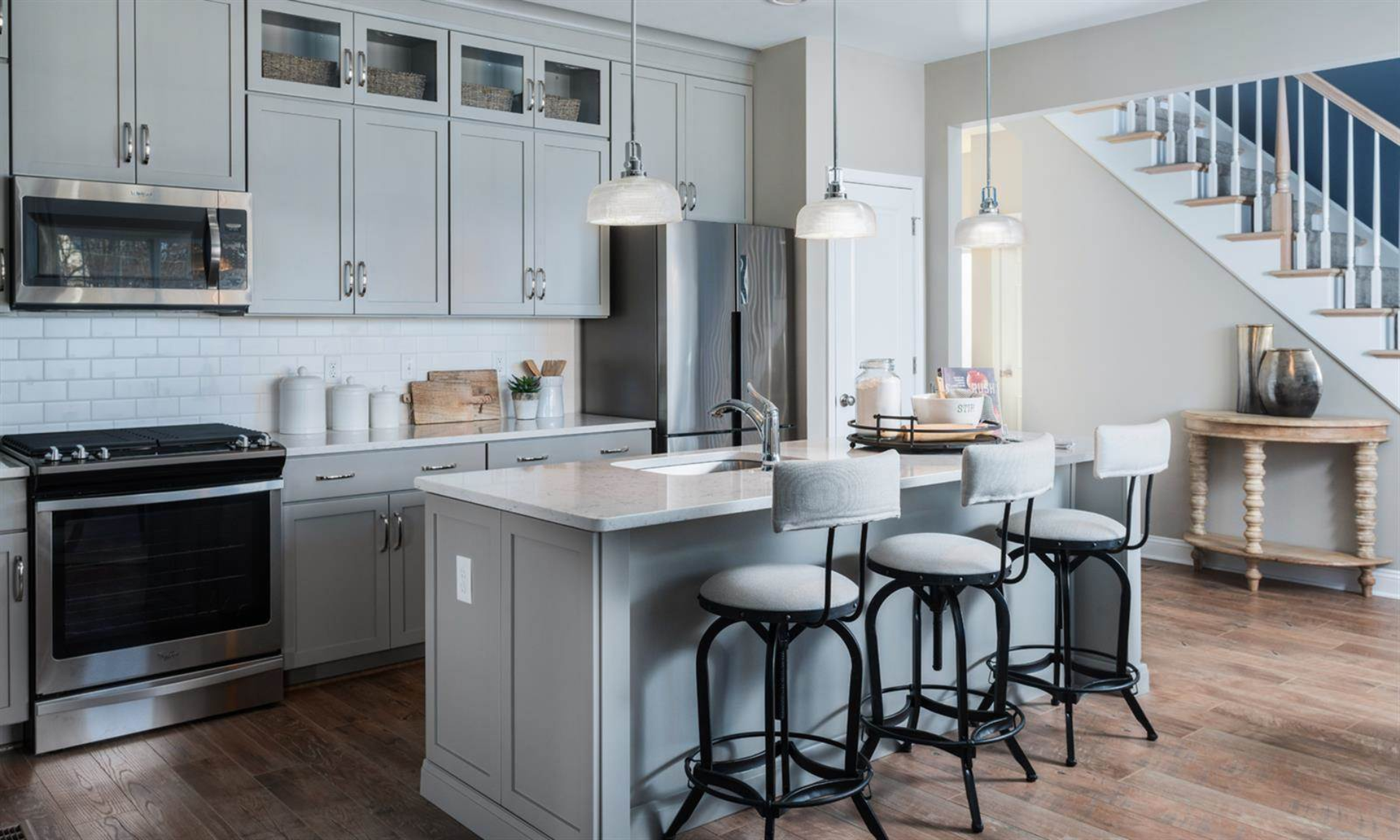 This Summer's Top Kitchen and Bathroom Trends
There are so many incredible advantages to buying a new home versus a used one, but none better than having the ability to decorate your way, from your kitchen to your bathrooms. Out of all the spaces in your home, these are among the most personal — which means your design choices should always come first.
After you've found the perfect THP home, you're free to unleash your unique style and creativity and turn these rooms into the spaces where you feel your best. Take a look at a few of our favorite design trends of 2019 and get inspired to decorate your oasis from top to bottom however you like!
Kitchen Trends on the Rise
Two Tone: Simply put, two tones are now better than one. While it may seem strange to mix colors, especially when it comes to your cabinets, the latest kitchen craze is "wood cabinets paired with painted cabinets." Sleek, artsy, and entirely unique, this pairing easily turns your kitchen into the hottest room in your home.
Curated Feel: Your brand new THP home gives you every opportunity to showcase your personal style, especially in your kitchen. With the popularity of open shelving, curated pieces in your home are now more in than ever. Display your all-time favorites pieces, from crocks to vases, and watch your kitchen sparkle.
Texture Time: Just like getting creative with recipes and food, getting creative with kitchen design couldn't be more fun. Designers are now putting a big focus on "mixing up the finishes". There could be white bead board on the ceiling, shiplap on the walls, brass strap hinges and latches on the cabinets, black marble on the island countertop, and warm woods on the floors, backsplash, and countertops.
Up and Coming Bathroom Designs
Vanity Love: Of course, a great vanity is a staple in your master bathroom, but did you know that top designers are now putting them in front of windows? Along with having beautiful lighting while you get ready for the day, you also have more than one gorgeous view to look at…
A New Kind of Tile: In kitchens and bathrooms, the use of trendy tiles are nothing new. But long, skinny tiles are now making their way into the spotlight and we couldn't love them more. This trend is both classic and completely unique at the same time, and brings such a fresh look to your personalized bathroom.
Get Artsy: If you're a fan of beautiful art, from paintings to sculptures to photographs, you probably have at least one piece proudly hanging in your home. But artwork is not only limited to bedrooms and living areas… Today, art in bathrooms sets the "tone and mood of a space" and immediately draws your eye to its beauty.
Mirror On the Wall: Last but not least, your bathroom's mirror — AKA the focal point of the entire room. Plain, classic mirrors always do the job, but don't be afraid to let a bit of your wild side out. A "statement mirror" can do wonders for the space and truly reflect your personality and style. This summer, you're the hot designer of the moment — and your home is your personal canvas to showcase everything you love. From your kitchen to your bathrooms, it's time to design the rooms of your dreams.
From all of us at THP Homes, happy designing!