This home is coming soon!
The Hanover House
Perkasie, PA - Bucks County
Estate Home From: the $700s
Pennridge School District
Discover this one-of-a-kind new construction 2,866 sq. ft. home that will take shape on a spacious homesite in Perkasie, Pennsylvania. Located in Bucks County, Perkasie is nestled between Doylestown and Quakertown. The homesite is a short distance to the downtown area, where you will find shops, multiple parks, and eateries. There are also great education offerings within the highly ranked Pennridge School District and exceptional universities within commuting distance!
Our impeccably designed Hanover floor plan will warmly welcome your friends and family with an open-concept living space. Whether it is time to make dinner at the end of a long day or time for your next gathering, this home keeps everyone together. A gourmet kitchen comes equipped with stunning KitchenAid appliances, including a microwave wall oven combo and beautiful gas cooktop. Enjoy the warm sunlight in the enclosed morning room and deck, both added to the back of the home as upgrades! Upstairs, an open layout provides easy access between bedrooms. The second floor laundry room has space for your linens or cleaning supplies with the extra cabinetry and countertop space. This home comes complete with our Smart Home Solution, featuring Nest security camera and thermostat.
Standard Features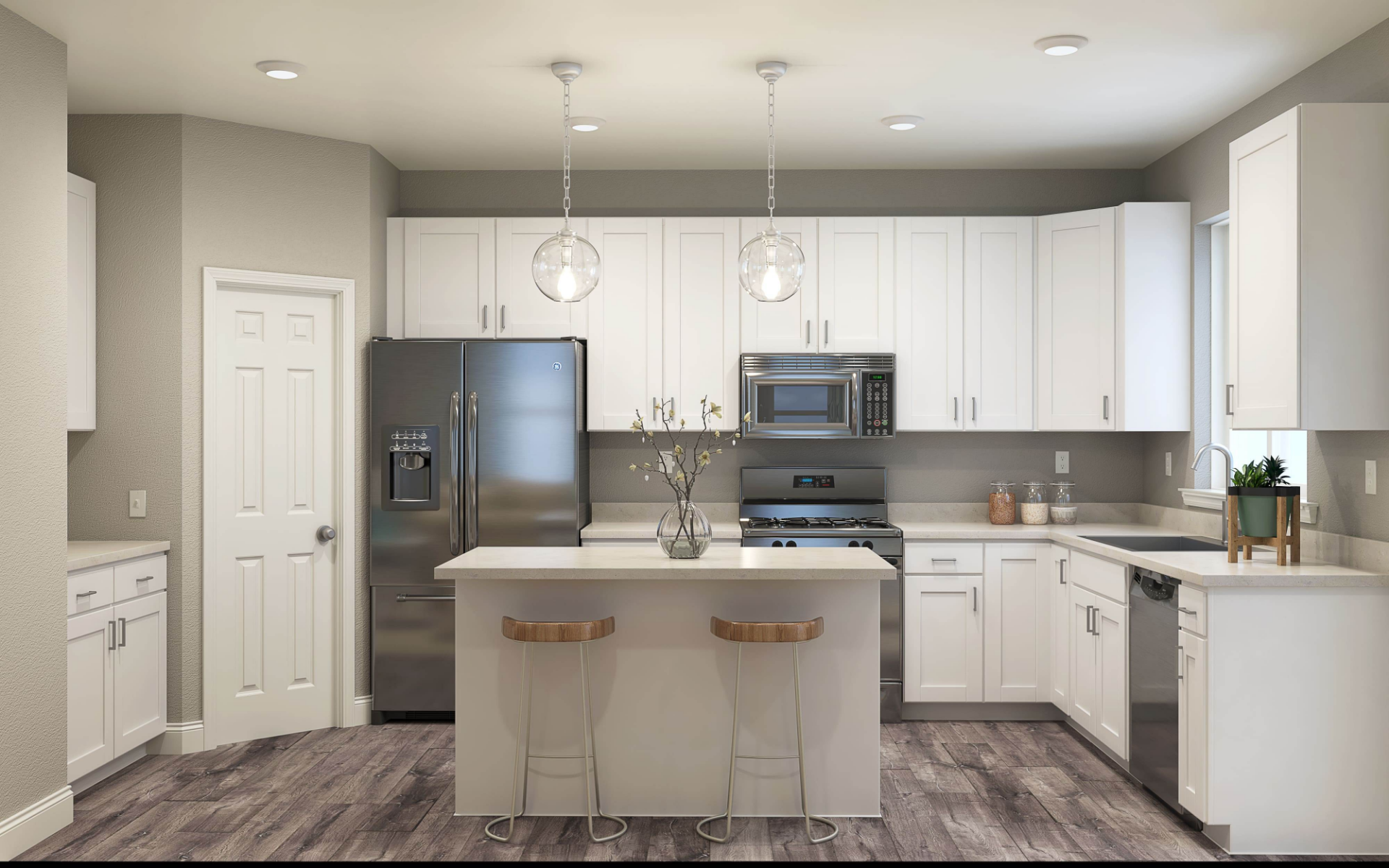 Interior Features:
20'x10' morning room
Gas fireplace
Nine-foot ceilings throughout the first floor
Laminate hardwood flooring throughout the first floor
Deep 7-inch window sills
Bathroom Features:
Upgraded primary bathroom with 1' bench in the shower
Moen® plumbing fixtures
Kitchen Features:
Walk-in pantry
Wall oven/microwave combo and cooktop
Stainless steel Kitchen Aid appliances
Quartz countertops and tile backsplash
Smart Home/Security Features:
Nest Thermostat
Nest Hello Doorbell (with exterior security camera)
Nest Hub Max (with interior security camera)
Quality Construction Features:
R-19 fiberglass insulation in 2x6 exterior walls (to total R-21)
Basement Waterproofing
Upgraded subfloors fastened with TetraGRIP™ nails
Vanguard® Manabloc quick delivery water system with emergency shut-off valves for each water line, all in one location
30-year, three-dimensional shingles
Exterior Features:
16'x12' composite deck
Enlarged garage with oversized garage doors
Utility Features:
Public water and sewer service
200-amp electrical service
Finishing Touches:
Pre-settlement walk throughs to ensure complete customer satisfaction
Professional cleaning prior to settlement
Community Map
What Our Happy Homeowners Have To Say
"

We chose THP over any other builder because we were able to get more value for our money. Throughout the whole sales process the best thing about working with THP was the way they made us feel like we were at home. It's just been great so far. It's been great living in something that we created together by ourselves.

Greg & Tiffany, The Reserves at Northgate Community

"

We have bought and/or built many houses in the past. This purchase had so many reasons to have challenges and issues along the way... and not. a. single. one. From the moment we saw the model to the moment we unlocked our front door for the first time, we felt the staff valued us as buyers, treated us with the utmost respect, and we trusted them without hesitation. To make it even better, we could not be happier with our townhouse! Thank you THP!

Andrew, The Village at Northgate

"

This was our first new construction home. We were anxious, but THP walked us through the process and explained every step along the way. We love our new home!!!

Anthony, Bayberry Crossing
Reviews
What Our Happy Homeowners Have To Say
"

We chose THP over any other builder because we were able to get more value for our money. Throughout the whole sales process the best thing about working with THP was the way they made us feel like we were at home. It's just been great so far. It's been great living in something that we created together by ourselves.

Greg & Tiffany, The Reserves at Northgate Community

"

We have bought and/or built many houses in the past. This purchase had so many reasons to have challenges and issues along the way... and not. a. single. one. From the moment we saw the model to the moment we unlocked our front door for the first time, we felt the staff valued us as buyers, treated us with the utmost respect, and we trusted them without hesitation. To make it even better, we could not be happier with our townhouse! Thank you THP!

Andrew, The Village at Northgate

"

This was our first new construction home. We were anxious, but THP walked us through the process and explained every step along the way. We love our new home!!!

Anthony, Bayberry Crossing