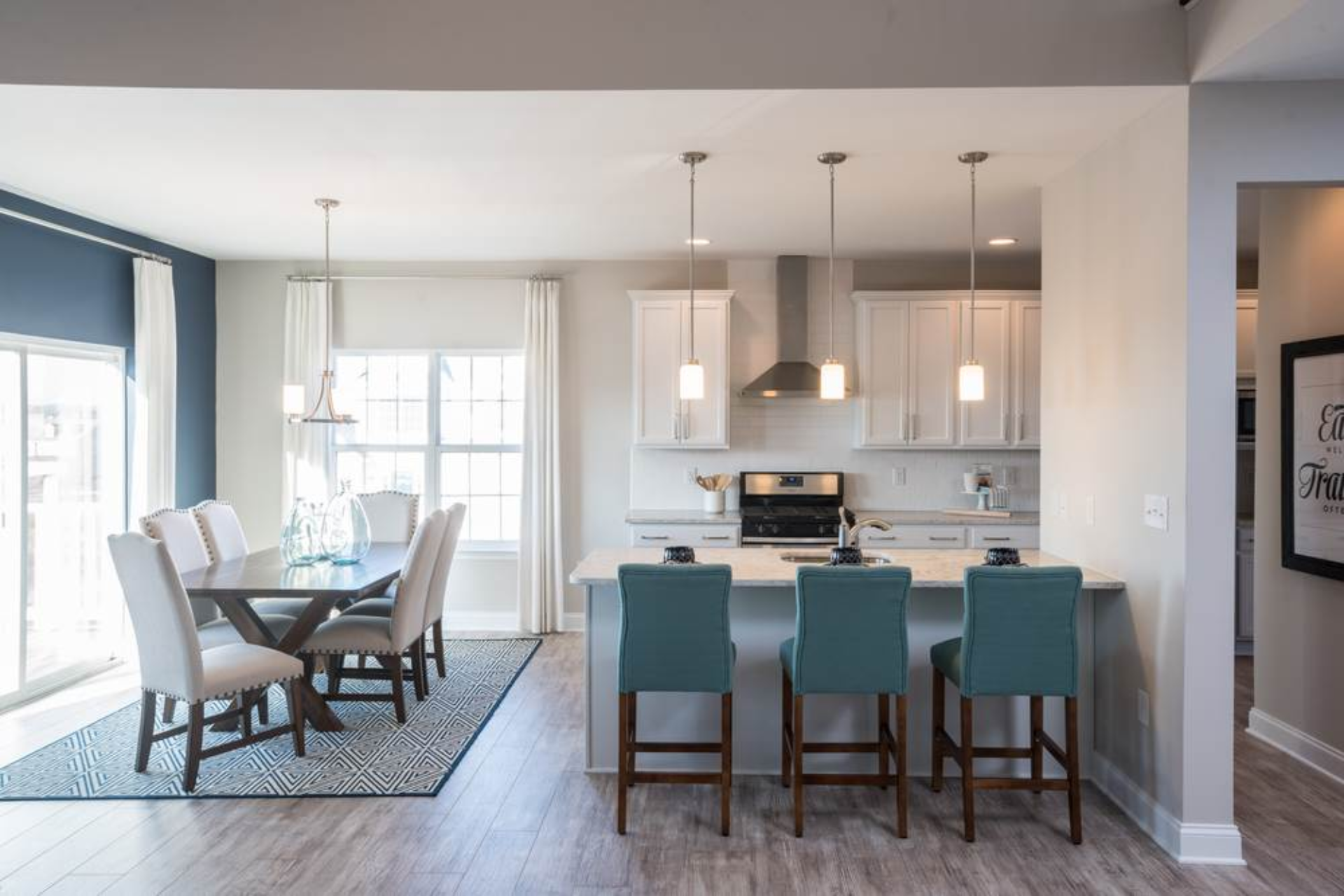 Make Your Home a Little Brighter
Good lighting can be an underutilized asset in a home. It can easily be added to any space, establishing a focal point and creating a desired feeling in a room. In order to get the most out of your lighting, a few things must be taken into account. Remember to balance your lighting. Certain lights should have a focal point to illuminate. Having several medium lights dispersed through a room is better than having one extremely bright light attempting to evenly distribute light throughout an entire room. When building a new construction home, it is important to know your own lighting preferences at the beginning stage of the project to be sure you design each room accordingly.
The lighting in your kitchen needs to focus on a few specific areas. Ceiling fixtures or recessed lights can nicely distribute the light. Avoid putting recessed lights above kitchen cabinets, this will cause shadows underneath which can make it difficult to work there. Instead, kitchen workstations need light specific to that area. Pendants over an island and undercabinet lights are great for your food preparation areas. Lightbulbs for these work areas will be most beneficial around 70-80 lumens, while the rest of the kitchen will only require around 30-40 lumens.
Living room
The living room requires a much softer light for your relaxation and enjoyment. 10-20 lumens per square foot will be sufficient to set the mood. In addition, you may want to add some lamps to the sitting areas for easy access when reading or working. Dimmable overhead lighting is a nice touch for a cozy feeling living space.
Bathroom lighting is fairly straightforward. You want to be able to see yourself clearly when using the mirror. Avoid lighting that will produce shadows or a glare. This can make it difficult to see while putting on makeup or washing your face.
Dining Room
Typically in a dining room there is one light fixture centered above the dining room table. Lighting will affect the ambiance of formal meals so it's important to get it right. 28-34 inches is the recommended height from the bottom of the fixture to the top of the table. However, the size of the light fixture can change the distance; higher for larger fixtures and lower for smaller ones.
Where to place lighting is important, but there is an important "why" behind the necessity of having good lighting. It isn't only for practical uses, there are several big advantages that go a bit deeper. There are a range of health benefits that come from light, whether natural or artificial, like helping the brain produce more serotonin and less melatonin, reducing the likelihood of depression. Bright and effective lighting is recommended for reading, especially for aging eyes, because it reduces the eye strain that accompanies working or reading in darker conditions. Of course when considering lighting, don't forget to strategically place windows throughout your home. While artificial light can be great, it cannot meet the same level of benefits that natural light can.