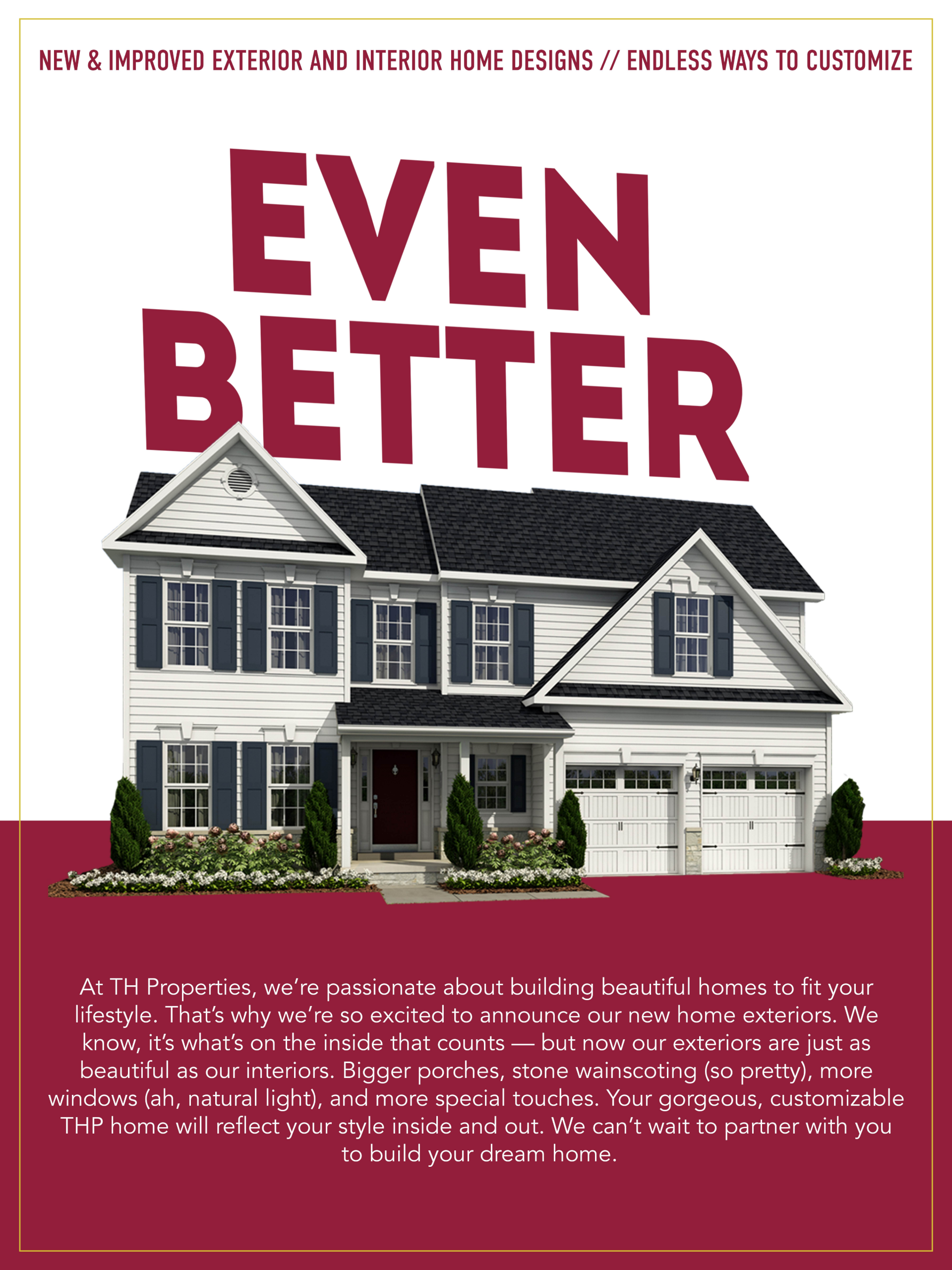 Our Homes are Even Better!
At THP Homes, our passion is providing you with the best of the best for your brand new home, inside and out. Spectacular interiors and unlimited customization have always been our standard, so we've decided to take our home elevations to new heights! But that's not all…
Apart from gorgeous elevations, we've added new floor plans and homesites to our lineup of opportunities for you to make your home EVEN BETTER. At THP Homes, you don't just purchase a house, you purchase a home that speaks to you — from the appeal of your porch, to the length of your living room windows, to the layout of your master suite. Here's what we have in store for your dream home:
New Plans When it comes to making "the one" a reality, you need choices, of course. We've added 2 stunning floor plans, The Middleton and The Cambridge. The Middleton is available at Lincoln Woods and High Meadow, and you can find The Cambridge at Lincoln Woods, High Meadow Estates, and The Reserves at Northgate. You now have more opportunities to compare and contrast (and be as picky as you want...). From spectacular open foyers to customizable flex rooms, and everything in between, these new plans reflect what we value most in an innovative, spacious, and comfortable home for the whole family.
New Elevations Are you ready to take your expectations higher? We're excited to introduce our new, single-family home exteriors! With bigger porches, beautiful stone wainscoting on the Colonial elevation, and more windows for natural light, our homes are better than they've ever been. We can't wait to work with you and show you how one of our new and improved living spaces will significantly enhance your life.
New Homesites We're excited to introduce our final phase in our High Meadow Estates community, called The Reserves at High Meadow. We're offering 6 floor plans — all featuring new designs! Create your perfect home from the perfect homesite in this warm and welcoming community. Loved by all for its stunning scenery, easy access to major highways, and close proximity to the entertainment and outdoor recreation that you know and love, The Reserves at High Meadow is the place that you'll love to come home to.
When you think of what it means to feel at home, what comes to mind? Our team understands that every family has their own special idea, and that's why we never stop improving the options that we offer. When choosing the home you've always imagined for yourself, we want you to feel unlimited in your choices! We can't wait to work with you!